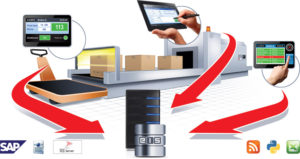 EIS (ELVAC Industry Signage) is a modular system for monitoring manufacturing, which can be easily adapted to your requirements in order to receive immediate and exact information regarding your company's manufacturing process, from the collection of data from manufacturing machines, through on-line production control, up to evaluation, statistics and reports.
Basic properties of EIS:
information from production: automatic and manual collection of data from sources, EAN readers, terminals and other technological equipment with the option to connect to ERP systems and third party systems (I/O)
monitoring – real time monitoring of the loading of machines, idle times and the overall manufacturing status; monitoring of products and traceability, checking the manufacturing process and supervision of plan fulfilment
on-line manufacturing control – on-line control on the basis of exact and actual manufacturing information, administration of work; data and system operations can be accessed by users depending on their access rights
manufacturing optimisation – optimising of the manufacturing processes and current manufacturing information in terms of the current situation
data evaluation – analysis of manufacturing data, evaluation of the efficiency of manufacturing equipment (OEE, i.e. Overall Equipment Effectiveness) and the quality of work for improved production planning
reporting – generation of reports, analytical and statistical data view, visualization of the manufacturing operation
"There are many ways to increase quality and provide essential information to the relevant staff – the most difficult is to select the correct information with fast ROI."
EIS consists of the following parts:
Please see the system requirements for individual parts
Why EIS?
Experience – we have extensive experience in monitoring and control systems for the automotive, machine and packing industries. Our know-how is used by dozens of clients in the CR and abroad.
Professionalism – our professional team of experienced analysts, developers, technicians and programmers can connect, monitor and control almost any technology and adapt EIS to your requirements.
Custom-made solution – EIS is fully modular and the resulting solution consists of partial components supplied according to your individual requirements. The solution can be highly specialized.
Technical support – we can resolve any potential problems 24 hours per day.
Support from major IT company – EIS is developed by ELVAC SOLUTIONS s.r.o. and offers a large portfolio of products and services in the areas of manufacturing (MES), control, monitoring and information systems.